False propaganda by Opposition over land bill: Hema Malini
Mathura: Actress-turned-politician Hema Malini today accused the opposition of indulging in false propaganda on the Land Acquisition Bill and asserted that the Modi government will not take any decision which will affect farmers."A rumour is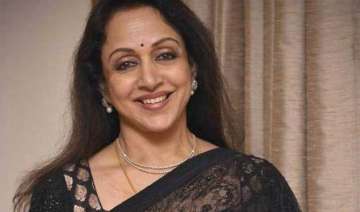 PTI
April 07, 2015 20:39 IST
Mathura: Actress-turned-politician Hema Malini today accused the opposition of indulging in false propaganda on the Land Acquisition Bill and asserted that the Modi government will not take any decision which will affect farmers.
"A rumour is floating that the land of the farmers would be taken forcibly, while the fact is that the farmer, not only would be provided four times compensation but employment to one member in the family would be ensured.
"Modi, moreover, would not take any decision that would adversely affect the farmers," Malini said while talking to reporters here today.
She announced that plan for the development of Rawal village adopted by her earlier has been made and the development would begin now.
"Installation of one hundred solar lights in the village and ten ATM RO plants is on the cards now. To counter the hard water problem in the district, installation of ATM RO plants in different areas is also my priority," she said.  
She refuted the charge that ever since she has been elected, she is hardly available to public.  "She works in her constituency for at least ten days a month," said former legislator Pranat Pal Singh.