Former BJP President Bangaru Laxman passes away
Hyderabad: Bangaru Laxman, the first dalit leader to head BJP, who had to make an ignominious exit after being caught on camera taking bribe of Rs one lakh to push a fictitious defence deal, died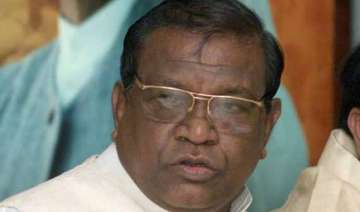 PTI
March 01, 2014 20:14 IST
Hyderabad:
Bangaru Laxman, the first dalit leader to head BJP, who had to make an ignominious exit after being caught on camera taking bribe of Rs one lakh to push a fictitious defence deal, died today aged 74.
Laxman, who was ailing for some time, suffered a fatal heart attack at a private hospital here this evening. He is survived by his wife, Susheela Laxman, who was a BJP MP of the 14th Lok Sabha, three daughters and a son.
Bangaru Laxman was elected to the Andhra Pradesh Legislative Council in 1985, before entering the Rajya Sabha in April 1996. In October 1999, he was inducted into the NDA government led by Atal Behari Vajpayee as Minister of State for Planning and Programme Implementation and was later appointed MoS in the Railway Ministry. 
Laxman occupied the top post in the BJP from 2000 to 2001.
His promising political career was cut short after he was caught accepting a bribe of Rs one lakh from a purported arms dealer in a sting operation by 'Tehelka' for pushing a fictitious defence deal for award of a contract for acquisition of thermal binoculors for the Army.