Former union minister Krishna Tirath ditches Congress, joins BJP
New Delhi: Former UPA minister and Congress leader Krishna Tirath today joined the Bharatiya Janata Party (BJP) in the presence of party chief Amit Shah.With Krishna's induction, the party hopes to  get  support of dalits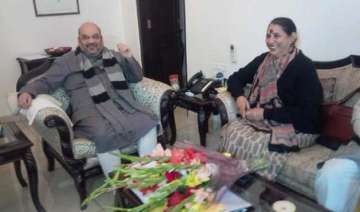 India TV News Desk
January 19, 2015 14:44 IST
New Delhi: Former UPA minister and Congress leader Krishna Tirath today joined the Bharatiya Janata Party (BJP) in the presence of party chief Amit Shah.
With Krishna's induction, the party hopes to  get  support of dalits in the coming assembly elections in Delhi.
"My role in the party will be decided by Amit Shah, but I will work for the people," she said.
Reports suggested that Tirath may contest the Delhi assembly polls. A decision in this regard is expected to be taken during the party's poll panel meet later in the day.
Meanwhile, reacting to the development, Congress leaders, Ajay Maken said, "It shows the nervousness of BJP."
Tirath had served as women child and development minister in the UPA Cabinet.
The elections for the 70-member Delhi Assembly will be held in a single phase on February 7, with the counting of votes set to take place on February 10.