Four suspected IM terrorists arrested
New Delhi: Four suspected Indian Mujahideen terrorists, including a Pakistani wanted in connection with several blasts in the country, have been arrested by Special Cell of Delhi Police from Rajasthan, police said today.  "Four terrorists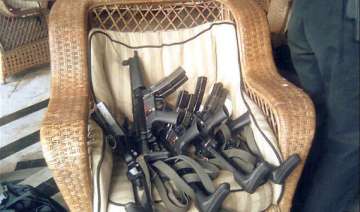 India TV News Desk
March 23, 2014 13:37 IST
New Delhi:
Four suspected Indian Mujahideen terrorists, including a Pakistani wanted in connection with several blasts in the country, have been arrested by Special Cell of Delhi Police from Rajasthan, police said today.  
"Four terrorists have been arrested by us. One of them has been identified as Waqas," Special Commissioner (Special Cell) S M Srivastava told PTI.
Waqas, a Pakistani, was wanted by police in connection with several blasts in the country including the serial blasts at Zaveri Bazaar in Mumbai on July 12, 2011.
Sources said those arrested were operating from Jodhpur in Rajasthan and planning a big strike during the upcoming Lok Sabha elections.
Police have also recovered large quantity of incriminating material from those arrested in the case.
SP, ATS, Ravi said the four were arrested last night and are suspected to have links with the Indian Mujahideen.  
While three suspects were arrested from Sanganer and Jhotwara locality in Jaipur, the fourth one was arrested from Jodhpur, sources said.
Rajasthan DGP Omendra Bharadwaj told PTI that the four have been questioned.