Gadkari rakes up Vadra issue to target Congress over land law
Panaji: Terming the Land Acquisition Ordinance as pro-farmer, Union Minister Nitin Gadkari today attacked Congress for opposing the proposed law and sought to know why it was not bothered about Social Impact Assessment (SIA) issue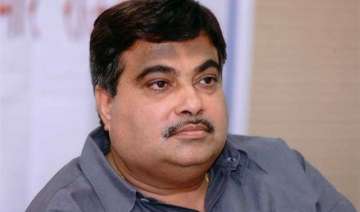 PTI
April 09, 2015 23:35 IST
Panaji: Terming the Land Acquisition Ordinance as pro-farmer, Union Minister Nitin Gadkari today attacked Congress for opposing the proposed law and sought to know why it was not bothered about Social Impact Assessment (SIA) issue when Robert Vadra's firm bought land in Haryana.
"Congress didn't bother to talk about SIA when land was given to Robert Vadra (son-in-law of Congress President Sonia Gandhi) in Haryana," he said at a press conference here.
"But now when we acquire land for development projects, Congress remembers SIA. They have double standards," he added.
The Road Transport Minister said the opposition to Land Acquisition Ordinance was politically motivated and claimed it favours farmers.
Gadkari rubbished suggestions that farmers would be forced to commit suicide if the amended land law being pushed by the Narendra Modi government comes into force.
"No farmer will commit suicide due to land acquisition law. Those who are protesting are not the land losers. The land loser gets four times the price (post acquisition)," Gadkari maintained.
The ordinance, which the NDA government could not get converted into a legislation in Rajya Sabha due its lack of numbers and stiff opposition, was re-promulgated on April 3.
The fresh executive order incorporates nine amendments that were part of the Bill passed in Lok Sabha last month.
SIA has been a key aspect of the land law. As per the amendments, SIA will not be applicable if the land is acquired for five purposes - national security, defence, rural infrastructure (including electrification), industrial corridors and building social infrastructure.