Gehlot denies any links with Asaram Bapu
Jaipur: Denying any links with spiritual guru Asaram Bapu, who has been accused of sexually assaulting a 16-year-old girl, Rajasthan Chief Minister Ashok Gehlot Friday accused him of making baseless and "cheap" statements.He was reacting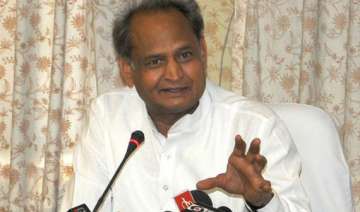 IANS
August 31, 2013 12:48 IST
Jaipur
: Denying any links with spiritual guru Asaram Bapu, who has been accused of sexually assaulting a 16-year-old girl, Rajasthan Chief Minister Ashok Gehlot Friday accused him of making baseless and "cheap" statements.
He was reacting to the godman's reported statement in which he said that he had links with Gehlot.
"I had met him about 12-15 years ago, when a cow shelter home was being inaugurated in Tonk's Niwai town. Now he is saying that he has links with me. It is not good on his part.
"Society respects saints and they should think 50 times about what message their words will convey," said Gehlot while talking to media here on Friday.
Gehlot also accused the Bharatiya Janata Party (BJP) of adopting double standards on the issue.
"BJP has come in support of Asaram. If an allegation has been levelled against him, police should be allowed to do its job of unbiased investigation. We want that if he is guilty, he should severely punished," he said.
The girl had made a complaint at a police station in Delhi Aug 20, accusing Asaram Bapu of sexually assaulting her at his ashram in Rajasthan's Jodhpur city. The spiritual leader has denied the allegation.
The girl, who studied at Asaram's ashram in Madhya Pradesh's Chhindwara and stayed in a girls' hostel there, alleged that she was sexually assaulted by the spiritual guru's ashram near Jodhpur Aug 15.