Ashok Gehlot condemns Giriraj's comments on Sonia Gandhi
Jaipur: Congress leader Ashok Gehlot today slammed Union Minister Giriraj Singh for his comments on Congress President Sonia Gandhi and said that the remarks show the "narrow mentality" of the BJP leader. "By making these types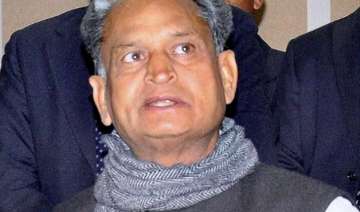 PTI
April 03, 2015 12:34 IST
Jaipur: Congress leader Ashok Gehlot today slammed Union Minister Giriraj Singh for his comments on Congress President Sonia Gandhi and said that the remarks show the "narrow mentality" of the BJP leader.
 
"By making these types of remarks, Giriraj Singh just wants to be in the news. The comments show his narrow mindset," the former Rajasthan chief minister said.
 
Giriraj Singh, the Minister of State for Micro, Small and Medium Enterprises is under fire for his racist barb at Gandhi. He had kicked up a row on Tuesday by asking whether Congress would have accepted Sonia Gandhi's leadership had she not been white-skinned.
 
"Had Rajiv Gandhi married a Nigerian woman and if she was not a white-skinned woman, would the Congress have then accepted her (Sonia's) leadership?" he had told journalists on Tuesday.
 
Gehlot also took potshots at the BJP government at the Centre and said that "it seems the BJP is not interested in governance".
 
"Since the BJP came to power, issues like 'love-jihad' and 'ghar-wapsi' have been at the forefront," he said.
 
Gehlot also questioned the move of adjourning the Rajasthan Assembly in eight minutes yesterday and alleged that it was done to crush the Opposition's voice in the Assembly.