Goa MLA takes public transport to attend Assembly session
Panaji: Goa BJP legislator Vishnu Wagh, who was stripped of his government positions, today arrived for the state Assembly session pillioning a motorbike.  Wagh arrived at the Legislative Assembly complex in Porvorim at around 11.15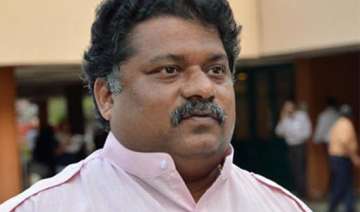 PTI
March 03, 2014 15:47 IST
Panaji:
Goa BJP legislator Vishnu Wagh, who was stripped of his government positions, today arrived for the state Assembly session pillioning a motorbike.  
Wagh arrived at the Legislative Assembly complex in Porvorim at around 11.15 AM on a motorcycle taxi, a little before Governor B V Wanchoo's address to the session.  
"I own no personal vehicle. Government has withdrawn my vehicles so I decided to take public transport," Wagh, who was recently removed from the post of vice chairman of Entertainment Society of Goa (ESG) and chairman of Kala Academy, told reporters outside the Assembly complex.  
Wagh, who had revolted against his own government over Medium of Instruction (MoI) issue in elementary education, was sacked from the posts abruptly by Chief Minister Manohar Parrikar.
Parikar had said he was 'not comfortable' working with the legislator.