Assam CM Tarun Gogoi asks for special package from Centre to secure 'justice for all'
New Delhi: Assam Chief Minister Tarun Gogoi today asked for a special package from the Centre for Assam and other north eastern states for overall development of justice delivery system in the region to ensure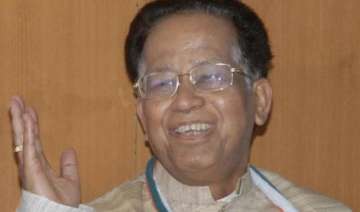 PTI
April 05, 2015 21:50 IST
New Delhi: Assam Chief Minister Tarun Gogoi today asked for a special package from the Centre for Assam and other north eastern states for overall development of justice delivery system in the region to ensure "justice to all."
Addressing a conference of Chief Ministers and Chief Justices of High Courts, Gogoi pointed out that the first phase of construction of the National Law University and Judicial Academy, Assam at a cost of Rs 100 crore is on the verge of completion.
The chief minister while stressing on the need to infuse managerial skills in the judicial system as endorsed by the 13th Finance Commission, said the Central government must provide adequate funds for this purpose instead of leaving it entirely to the state governments.
He urged the Centre to grant "a special package for north eastern states, including Assam for overall development of justice delivery system."
Expressing concern over the alarming rate of pendency of cases owing to delay in delivery of justice, Gogoi said, "Our synergy must be directed towards innovation of new ways that will enable clearing of backlog of pending cases and ensure speedy justice to our citizens."
The Chief Minister while emphasising on the quality judgement, called for proper training of judicial officers.
Gogoi stressed on the need for time-bound implementation of e-Court project to 'bring about sea-changes in the justice delivery system.'
The chief minister underscored the need to bring in innovative legislations, both operational as well as structural in the judiciary to cater to the needs of the society in tune with changing surroundings.
He highlighted the slew of initiatives taken by the state government to strengthen judicial infrastructure and manpower that included sanctioning of 36 new courts, converting 20 ad-hoc fast track courts to regular courts, sanctioning of 54 new fast-track courts for trial of offences against women and doubling the number of courts at subordinate levels.
Gogoi said the new infrastructure in place has resulted in the steady decline in the pendency of cases over the years.
"Pendency of cases is steadily declining even though there is an increase in the institution of fresh cases. This is definitely an encouraging sign.
"However, there is no scope for complacency as we have a long road ahead to deliver justice to the litigants by disposing of cases in a time-bound manner," he said.
Welcoming the initiative to bring in synergy between the Executive and the Judiciary, the Chief Minister said there is a need to create an atmosphere where both work in tandem "to ensure justice delivery to our citizens and fulfil the basic aim of our Constitution that is to secure justice to all."
Gogoi stressed on the need to ensure that marginalised sections of the society get access to justice.
"Any attempt to improve the justice delivery system without giving emphasis to accessibility by the marginalised sections of the society is itself an injustice.
"We must ensure that the poorest of the poor can access the door of justice even at the highest level," he added.