Good days promised by Modi not visible: Rajiv Shukla
Fatehpur (UP): Senior Congress leader and former Union Minister Rajiv Shukla today attacked Prime Minister Narendra Modi, saying the good days promised by him were not visible and the "dreams" shown by him about "bringing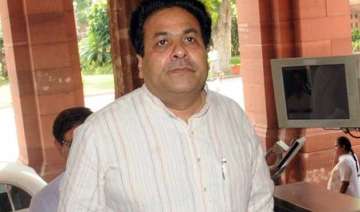 PTI
January 10, 2015 22:44 IST
Fatehpur (UP): Senior Congress leader and former Union Minister Rajiv Shukla today attacked Prime Minister Narendra Modi, saying the good days promised by him were not visible and the "dreams" shown by him about "bringing sun and moon" have fallen flat.
Talking to reporters here, Shukla said 'achhe din' (good days) were not visible and inflation was at its peak as the Modi government had failed to tame it.
He said the cut in petrol and diesel prices as compared to fall in price of crude oil in the international market was not sufficient.
Shukla claimed during the Congress rule, rate of crude oil was 115 dollars per barrel, which has fallen drastically.
"Today, oil is being taken at the rate of 45 dollars per barrel. At this rate, petrol and diesel should be sold for Rs 30 and Rs 25 per litre, respectively. But the Modi government is working to benefit oil companies," he alleged.
The "dreams" shown by Narendra Modi about "bringing sun and moon" have fallen flat, he said.
Taking a dig at the Swachh Bharat campaign launched by Modi, Shukla said the Prime Minister has given brooms in the hands of every person.
Every minister aspires to get his picture clicked by the media with a broom in his hand, he said.
On the issue of religious conversion, Shukla alleged that it was a "propaganda spread by BJP" which aimed to "polarise" votes of a particular community.
He alleged that "BJP and RSS got conversions done" in Agra.
To a query on upcoming Delhi elections, the former minister said Congress will perform better this time.  Shukla, who is also the Vice President of BCCI, was here to meet the Vice President of Uttar Pradesh Cricket Association.