Government, BJP standoff over missing coal files likely today
New Delhi: A confrontation between the treasury benches and the opposition appears likely today in the Lok Sabha with the BJP sticking to its demand that Prime Minister Manmohan Singh make a statement on missing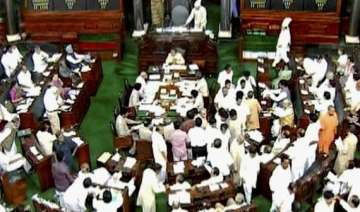 IANS
August 22, 2013 7:00 IST
New Delhi
: A confrontation between the treasury benches and the opposition appears likely today in the Lok Sabha with the BJP sticking to its demand that Prime Minister Manmohan Singh make a statement on missing files related to THE controversial allocations of coal mines and the government rejecting this.
The government, which could not get the Food Security Bill debated and passed Tuesday in parliament as the BJP did not allow the house to run over its demand, hopes to pass the UPA's flagship welfare legislation today.
"The prime minister must make a factual statement on the missing files," BJP leader Arun Jaitley told TV news channel NDTV.
BJP spokesperson Nirmala Sitharaman said the party stood by the demand made Tuesday. "As on now our stand continues," Sitharaman told IANS.
The government rejected the BJP's demand. "We reject the demand. On the pretext of raising other issues, the passage of the food security bill should not be blocked," Minister of state for Parliamentary Affairs Rajeev Shukla told IANS.
"We will try our best to pass the food bill. We appeal to all parties to support the bill as it is in the interest of 80 crore people," he said.
On Tuesday, leader of opposition Sushma Swaraj of the BJP, had demanded a statement from the prime minister on the missing files relating to the coal blocks and alleged the untraceable documents carried names of Congress leaders.
"The prime minister should come in the house and clarify on the missing files. These files contain the names of Congress leaders involved and the decisions taken in the allocation of coal blocks," said Sushma Swaraj.
Later, the entire NDA - including the BJP, JD-U and Shiv Sena members - protested on the issue and raised slogans against the government, resulting in chaos in the house as the Communist Party of India-Marxist members raised the issue of price rise and the Telugu Desam Party and Congress members protested against the decision to create Telangana.
The Rajya Sabha was also repeatedly disrupted over the missing files.
Coal Minister Sriprakash Jaiswal's statement that the government was committed to finding the files and had formed a panel for it failed to pacify the BJP.