Government lacks will to combat terror, says RSS
New Delhi, July 9: The Rashtriya Swayamsevak Sangh (RSS) Monday condemned the terror attack at the Mahabodhi temple in Bodh Gaya and said terrorists were succeeding because the government lacked the will to decisively deal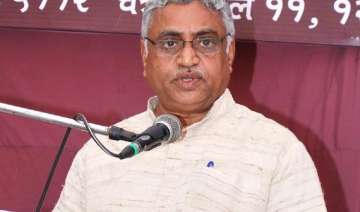 IANS
July 09, 2013 7:30 IST
New Delhi, July 9
: The Rashtriya Swayamsevak Sangh (RSS) Monday condemned the terror attack at the Mahabodhi temple in Bodh Gaya and said terrorists were succeeding because the government lacked the will to decisively deal with them.
RSS spokesperson Manmohan Vaidya, in a statement, said the need of the hour was to deal decisively with terrorism.
"RSS condemns in strongest terms the explosions carried out by terrorists at the Bodh Gaya temple of Lord Buddha, who was the harbinger of universal peace and who gave the world the message of peace, compassion and non-violence," the statement said.
"(As a result of) The lack of will on the part of the government to deal conclusively with the activities of terrorists with a heavy hand, the terrorists are succeeding in their nefarious designs. The need of the hour is for all to rise above partisan politics to deal with this menace decisively," it added.