Government to take stern action against Naxalites: Rajnath
Ghaziabad: The Centre will take stringent action against the Naxalites who killed seven policemen in Sukma district in Chhattisgarh, Union Home Minister Rajnath Singh said today.The Home minister told media persons that Chhattisgarh Chief Minister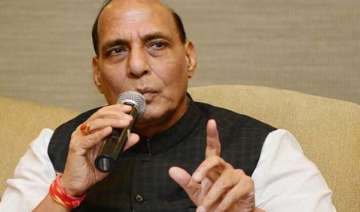 PTI
April 11, 2015 23:20 IST
Ghaziabad: The Centre will take stringent action against the Naxalites who killed seven policemen in Sukma district in Chhattisgarh, Union Home Minister Rajnath Singh said today.
The Home minister told media persons that Chhattisgarh Chief Minister Raman Singh has informed him about the ambush and the casualties.
Asked about the central government's stand against Naxalites, Singh tersely said,"The Centre as well as the state governments have initiated action against the Naxalites operating in the region to keep up the morale of the forces."
"Appropriate directions have been given to the state chief minister but I am not going to disclose the strategy just now before media," said Singh.
He was here as chief guest in a convocation ceremony at an engineering college at Duhai area.
Talking on the issue of opposition against rehabilitation of Kashmiri Pandits in separate colony in Kashmir, Singh said that the matter has been settled with the Jammu and Kashmir Chief Minister and the opposition against the issue is "baseless."
Responding to a query about release of terrorist mastermind of 2008 Mumbai massacre Zakiur Rehman Lakhvi from jail, he said that Pakistan has again committed a "blunder" and this will weaken bilateral relations with India.
Seven policemen were today killed and a dozen injured when Naxals ambushed them, triggering a gunbattle in the dense jungles of Maoist hotbed of Sukma district in Chhattisgarh.