J&K Governor gives one day ultimatum to PDP-BJP to finalise talks on govt formation
New Delhi: Jammu and Kashmir Governor NN Vohra has told the PDP and BJP that they must clarify by tomorrow evening whether they will form government in the state again.The Governor has also asked Peoples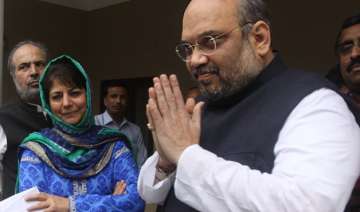 India TV News Desk
February 01, 2016 13:26 IST
New Delhi: Jammu and Kashmir Governor NN Vohra has told the PDP and BJP that they must clarify by tomorrow evening whether they will form government in the state again.
The Governor has also asked Peoples Democratic Party (PDP) president Mehbooba Mufti to call on him on Tuesday, as the confusion over government formation gets confounded in the state.
In a letter faxed to the PDP president, Vohra has asked her to call on him at the Raj Bhawan here tomorrow (Tuesday) to discuss the political situation in the aftermath of Mufti Muhammad Sayeed's death.
The new government is yet to be formed even three weeks after the death of former chief minister Mufti Mohammad Sayeed on January 7.
The confusion got further compounded on Sunday when Mehbooba Mufti said that she needs effective, time-bound assurances on implementation of the agenda of alliance from the Central government to form the government.
Noting the Narendra Modi government will have to reach out to the state's people with decisive political and economic confidence-building measures (CBMs), she said her father 'took a courageous, although unpopular, decision of aligning with BJP', hoping its government will take decisive measures to address the 'core political and economic issues' concerning the state and its people.
Yesterday's meeting was the second round of meeting which PDP president held with her party members after one on 17 January.
Meanwhile, the core group of state BJP met here today to discuss the political situation. The meeting held in Gandhi Nagar area here saw participation of core group members, including former Deputy Chief Minister Nirmal Singh, former Ministers, MPs and BJP state president.
The leaders discussed the situation of uncertainty emerging in J&K following suspense over government formation besides the statement of Mehbooba Mufti made yesterday.
The PDP is the largest party in the 87-member Assembly with 27 seats. It tied up with second largest party, BJP, which has 25 MLAs, to form government. The coalition government ran for nearly 10 months until the demise of Mufti Mohammad Sayeed.