Govt can't discontinue 50p monthly hike in diesel price: EC
New Delhi: Posing a tricky situation for the government, the Election Commission today said it cannot discontinue with the monthly 50 paise hike in diesel prices till the completion of the poll process.  "If the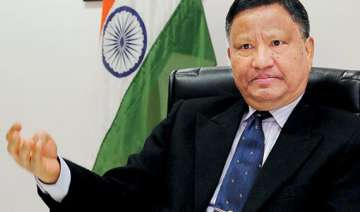 PTI
March 07, 2014 14:28 IST
New Delhi:
Posing a tricky situation for the government, the Election Commission today said it cannot discontinue with the monthly 50 paise hike in diesel prices till the completion of the poll process. 
"If the oil companies have taken a policy decision with a very clear objective that if they increase price every month by 50 paise or more than that, we have no objection to that. 
But if it is suddenly discontinued without any reasonable ground or reasonable argument then it is definitely a big question mark," said Election Commissioner Harishankar Brahma.
In an interview to 'CNBC TV18', he clarified that the Election Commission will not come in way of any decision, but the government and the Reserve Bank will need to keep it informed.
On whether the oil companies can halt the monthly increase of 50 paise a litre, Brahma said in case it happens election commission will look into the matter.
"Election commission will definitely look into the matter very closely and scrutinise why increasing was done earlier and why they have stopped raising now because it will be a question mark in the minds of our people," he said.