Government can't blame Opposition for bedlam in Parliament: Yechury
Nagpur: Senior CPM leader Sitaram Yechury Wednesday said the Government can't escape from its responsibility by blaming Opposition for frequent disruptions in Parliament, and questioned the ruling alliance over taking frequent recourse to ordinance route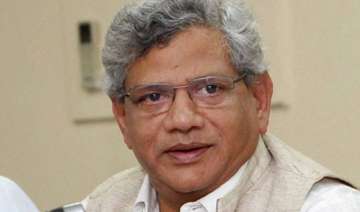 PTI
January 08, 2015 9:08 IST
Nagpur: Senior CPM leader Sitaram Yechury Wednesday said the Government can't escape from its responsibility by blaming Opposition for frequent disruptions in Parliament, and questioned the ruling alliance over taking frequent recourse to ordinance route to push through legislations.  
The Government of the day is equally responsible for smooth conduct of proceedings in Parliament and by simply blaming the Opposition for disruptions, it can't escape from its responsibility, he said.
Yechury was speaking at a symposium on 'Parliament Disruptions', organised by Lokmat Group of newspapers here.
"In the just-concluded Parliament session, the Opposition was simply asking the BJP-led Government to clarify its agenda - was it development or Hindutva?
"There were reports of religious conversions (organised by right-wing outfits) and Ministers were making remarks against certain communities," he said, highlighting issues which led to bedlam and frequent adjournments of both Houses in the winter session.
The veteran lawmaker said there should not be less than 100 days of Parliament sitting in a year.  
Yechury said the NDA Government has brought eight ordinances within six months of its tenure and sought to know the rationale behind invoking the emergency legislative measure to clear pending issues.
Speaking at the meet, senior Congress leader Digvijay Singh said when Sushma Swaraj and Arun Jaitley were Leaders of Opposition in Lok Sabha and Rajya Sabha, respectively, they had justified disruptions of Parliament, saying they were legitimate process in a democracy.
Citing example of British Parliament, Singh said the Opposition parties there are allowed to speak freely and ask questions on important issues.
The Government needs to be liberal and allow the Opposition parties to put forth their point of views in the House, the Rajya Sabha MP maintained.