Govt seeks RAW's help to probe Reliance lawyers: Media report
New Delhi: In a dispute related to costs of Panna, Mukta and Tapti (PMT) Oil and Gas fields being adjudged by an arbitration committee of three members since 2011, the Petroleum Ministry has reportedly disagreed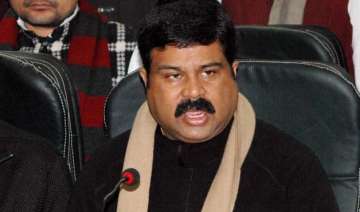 India TV News Desk
January 21, 2015 12:00 IST
New Delhi: In a dispute related to costs of Panna, Mukta and Tapti (PMT) Oil and Gas fields being adjudged by an arbitration committee of three members since 2011, the Petroleum Ministry has reportedly disagreed  with the two contestants of the arbitration deal – Reliance Industries Limited (RIL) and British Gas (BG).
Alleged link-up between the lawyers of RIL and the umpire or the presiding arbitrator of the arbitration tribunal who is judging the case, Union Petroleum Minister Dharmendra Pradhan has  asked the foreign intelligence agency RAW to investigate the matter, says an Indian Express report.
The minister has claimed that the presiding Arbitrator, Christopher Lau has connections with Allen & Overy, the solicitor firm of RIL and BG in the arbitration.
Earlier when arbitration began in 2011, the Singapore-based lawyer Lau had declared to both sides – the then UPA government and RIL and BG that his daughter has worked for Allen & Overy.
According to government reports accessed by Indian Express, Indu Malhotra, senior advocate representing the government in the case also raised suspicion in-front of Pradhan that "Lau still has continuing connections with Allen and Overy."
The other two members of the arbitration committee – ex-Supreme Court judge Justice B P Jeevan Reddy who was appointed by the then government and the RIL-BG arbitrator Peter Leaver had selected Lau as the umpire or the presiding arbitrator.
Malhotra told Pradhan that even Reddy had once raised concerns about the "conduct of Lau and his attitude against the government".
The report claims that Reddy who had resigned from the tribunal on February 4, 2014 saying that "the atmosphere of the arbitration proceedings was not conducive to the collegiate and collective functioning of the tribunal" told Malhotra in a meeting in October 2014 that "he also suspected some links between Allen & Overy and Christopher Lau".
Later Reddy was replaced by Justice B Sudarshan Reddy who joined the tribunal on March 14, 2014.
In the wake of all these developments, Malhotra, in a meeting with Pradhan, sought an investigation into the conduct of the arbitrators of the deal.
"Accordingly, a secret note was sent to Secretary (RAW) to look into alleged linkage between Allen & Overy and Christopher Lau," says a government note.
Subsequently, on November 25 last year, endorsing petroleum ministry's proposal, Pradhan made up his mind to challenge the neutrality of presiding arbitrator of the case in the Permanent Court of Arbitration, The Hague, in case there are any inputs from RAW.
He has also ordered "exploring the possibility of handing over the case to Serious Fraud Investigating Office (SFIO) on the issue of notional income tax" where government maintains that RIL-BG are claiming higher income tax deduction than what they pay.
Petroleum Ministry has claimed that operator used notional income tax of 50 percent as deduction from their cash flows even though they only paid 33.99 percent to the Income Tax Department.