GST Bill likely to be taken up in Lok Sabha next week
New Delhi: Hopeful of support from some opposition parties, the government is likely to take up the Constitutional amendment bill for the roll-out of GST next week in the Lok Sabha for consideration.  "GST brings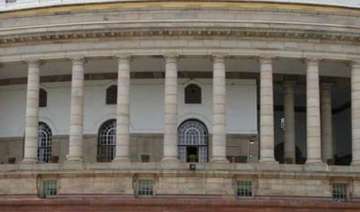 PTI
April 29, 2015 9:28 IST
New Delhi: Hopeful of support from some opposition parties, the government is likely to take up the Constitutional amendment bill for the roll-out of GST next week in the Lok Sabha for consideration.  "GST brings national integration on tax. But in order to make a larger reform, you will have to make certain concessions," Parliamentary Affairs Minister M Venkaiah Naidu said indicating that the government would be taking some of the concerns of Oppostion-ruled states on board.  
As GST would be a destination-based tax, manufacturing states like Gujarat, Maharasthra and Tamil Nadu have expressed the fear that they may lose out on revenue.  A press release issued by Parliamentary Affairs Ministry said "the Constitution Amendment Bill in respect of GST would be taken up next week."
The Constitution (One Hundred and Twenty-Second Amendment) Bill, 2014 was moved for consideration in the Lower House on April 24 amid stiff resistance of the Opposition, which wanted the bill in respect of GST to be referred to a Standing Commmittee.
Moving the enabling bill, Finance Minister Arun Jaitley had said it is a "win-win" measure and states have nothing to fear.
Members of Congress, led by Sonia Gandhi, along with those of TMC, Left and NCP staged a walk out after their plea for referring the Constitution Amendment Bill to the Standing Committee was not accepted. AIADMK and BJD also opposed its consideration but did not walk out.
The government today said that further to the suggestions from the Members of Lok Sabha, the government has agreed to extend the ongoing discussion on demands for grants of various ministries by one day till tomorrow.
As per the earlier schedule, this was to have concluded today and guillotine was to be applied this evening.  Lok Sabha will now discuss the demands for grants of the Ministry of Health and Family Welfare tomorrow and thereafter guillotine would be resorted to.
As per the suggestions from MPs, Naidu suggested changes in the agenda for the next two days of this week and the same was accepted by the House.
"As per the revised agenda, Finance Bill will be taken up in the Lok Sabha on April 30," it said.
Lok Sabha has so far discussed the demands for grants of 5 ministries--- Home, HRD, External Affairs, Chemicals and Fertilizers and Drinking Water and Sanitation.