Gujarat government responsible if bandh turns violent: Vaghela
Ahmedabad: The Congress said here today that the Gujarat government would be solely responsible, if the statewide bandh on January 10, barring four major cities, against the Vibrant Gujarat Investors' Summit becomes violent.  "Gujarat will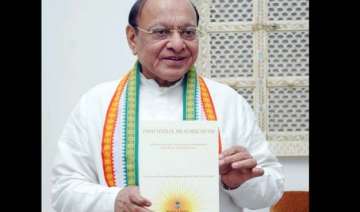 PTI
January 09, 2015 20:43 IST
Ahmedabad: The Congress said here today that the Gujarat government would be solely responsible, if the statewide bandh on January 10, barring four major cities, against the Vibrant Gujarat Investors' Summit becomes violent.  "Gujarat will observe the bandh in its rural areas and in the entire state, barring four major cities, tomorrow.
 If the bandh gets violent, the Gujarat government will be solely responsible," Leader of Opposition (LoP) in the Gujarat assembly Shankarsinh Vaghela told reporters here.  Alleging that the Prime Minister Narendra Modi-led union government had adopted an 'anti-farmer' policy, Vaghela said that the farming sector is on the road to destruction after the UPA rule.
Vaghela took a dig at the Gujarat Government for not providing due facilities during the Pravasi Bharatiya Divas event at Mahatma Mandir Gandhinagar.  "The so-called Mahatma Mandir has become an example of anarchy and misery. It is difficult even to get water or food at Mahatma Mandir. It is the biggest example of anarchy," Vaghela said.
"When Gujarat's middle class is suffering to meet their two ends, the Gujarat government is offering food costing between Rs 2,200 and Rs 12,000. This is an insult of Gujarat's middle class. Who will pay the bills of this lavish food and hotel stay of VVIPs," Vaghela asked.  Vaghela compared the functioning of the central and state governments' functioning with the Moghul and British eras.
"People are not even allowed to walk on roads and they (governments) force us to take law and order into our hands.  Such authoritarian functioning put the British to shame. Even Moghul emperors did not waste money like water like today's state and union governments," Vaghela said.  "At the salt-mound, sculptures of Gandhiji were shown nude.
This is against the pride of Gujarat. This is an insult to Mahatma Gandhi. They call it Dandi Kutir but it is actually a palace. It is an insult to the kutir (hut)," he said.  Gujarat Pradesh Congress Committee (GPCC) president Arjun Modhvadia said that Gujarat would observe a bandh tomorrow and criticised the Modi-led union government for adopting the 'ordinance-route' to introduce the land acquisition bill recently.