Have detailed plan to ensure safety, security of women: BJP
New Delhi: To woo women voters ahead of Delhi Assembly elections, BJP today made several promises to them including steps to reduce crime against women, their empowerment, safety and security, and said its CM nominee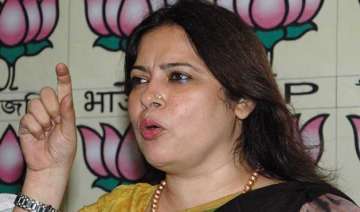 PTI
January 28, 2015 23:24 IST
New Delhi: To woo women voters ahead of Delhi Assembly elections, BJP today made several promises to them including steps to reduce crime against women, their empowerment, safety and security, and said its CM nominee Kiran Bedi will work out these issues.
"Since BJP has come to power at the Centre, several steps have been taken to ensure safety and security for the women. Home Ministry recently launched a 'Himmat App' for women security.
"We have a detailed plan to ensure safety and security of women in the national capital and if Kiran Bediji, who has 40 years' administrative experience, becomes CM of Delhi, she will definitely succeed to provide a safe environment for the women," BJP's national spokesperson Meenakshi Lekhi told reporters here.
Lekhi also said it has been constant effort of BJP that women should be educated, empowered and provided secure atmosphere in the society and that is why BJP has encouraged women in politics and social work.
"In the Republic Day celebrations this year, women have been given leadership role which shows that the central government has started work in the direction of the progress and respect to women," she said.
Without mentioning AAP, the BJP MP said the opposition political party talks about respect to women again and again but it is quite surprising that the three women who were connected as founder members of that party—Kiran Bedi,Madhu Badhuri and Shazia Ilmi— have left that party.
Meanwhile, Congress leader Uday Kaushik and DPCC secretary Gulshan Guglani today joined BJP. A former BJP worker, VK Monga, also returned to the fold.