Hindutva remarks, conversion damaging NDA's prospects: Kushwaha
New Delhi: Reflecting the growing unease within the government over controversial remarks by Hindutva hardliners and conversion, a senior Union minister today said such issues are "damaging" NDA's prospects, citing example of Kashmir where it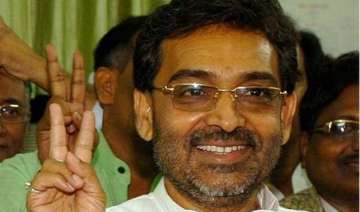 PTI
January 11, 2015 13:05 IST
New Delhi: Reflecting the growing unease within the government over controversial remarks by Hindutva hardliners and conversion, a senior Union minister today said such issues are "damaging" NDA's prospects, citing example of Kashmir where it could not manage a single seat.  
Union Minister Upendra Kushwaha also said that he was not in favor of any law to check conversion as there are already provisions to check coercion and allurement for conversion.  
To a question on whether the issue of conversion was taking away the spotlight from the issue of development, Kushwaha, in an interview to PTI, said, "definitely it does take away the focus. They (saffron hardliners) should keep this in mind that the only agenda of this government is development. They should allow the government and Prime Minister Narendra Modi to do that.
"Opposition should not be given an opportunity to raise this issue all the time. The Prime Minister also wants that the only focus area should be development," he said.  
Kushwaha, a former JD(U) MP, who heads the Loktantrik Samata Party and had allied with BJP in last Lok Sabha polls, also felt that had these issues not cropped up, the BJP would have been able to win few seats even in Kashmir Valley and that the "damage" will continue if this practice is not put to an end.
With Delhi slated to go to polls soon, the Union Minister also sounded a word of caution saying that such issues damage the prospects and hence "the focus should only be on development" during Delhi polls.
"Such talks do the damage. It has happened.
The kind of crowds that Prime Minister Modi was getting in the Valley, it was possible that the BJP could have won one or two seats at least," Kushwaha added.
"My opinion is that even in Delhi, the focus should only be on the development agenda. We should focus on people's problems and not on emotive issues," Kushwaha said.  
After Union ministers Ram Vilas Paswan (of LJP) and Najma Heptulla, Kushwaha also expressed reservations against making any anti-conversion law.
"It will be wrong to bring any law to check conversion.  This should not happen. Religion is a matter of personal choice. Yes, it is definitely wrong if there is any coercion and allurement involved in changing anyone's religion. There are provisions to check these," he said.  
Heptulla had on Wednesday said that existing laws of the country were adequate to deal with conversion by force or inducement.
"There are already so many laws to deal with it. If there is a consensus on bringing another law, it is up to the lawmakers. I have to go by what my party line is," she had said.
On Tuesday, Paswan had also said "existing laws regarding conversion are sufficient".