Home minister Sushil kumar Shinde to visit Bodh Gaya tomorrow
New Delhi, Jul 9: Home Minister SushilkumarShinde will tomorrow visit BodhGaya where ten bombs exploded on Sunday injuring two monks.Shinde, accompanied by Union home secretary Anil Goswami and other officials, will meet the injured monks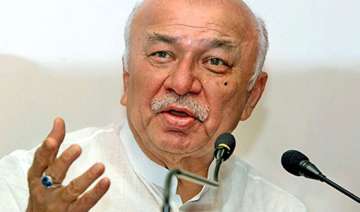 PTI
July 09, 2013 20:10 IST
New Delhi, Jul 9:
Home Minister SushilkumarShinde will tomorrow visit BodhGaya where ten bombs exploded on Sunday injuring two monks.
Shinde, accompanied by Union home secretary Anil Goswami and other officials, will meet the injured monks and visit the BodhGaya temple, one of the most holiest Buddhist sites, where the ten bombs exploded and three others were defused.
The Home Minister is expected to hold a security review meeting with Bihar Chief Minister Nitish Kumar and state government officials to take stock of the measures taken for the security of the temple complex.
Investigators of the Bihar Police and National Investigation Agency are likely to brief Shinde about the progress of the probe during his visit to Bihar.