Hope a situation like in 2004 will not be repeated: Buddhadeb
Kolkata: Bringing the BJP-led NDA in place of Congress-led UPA would be like jumping from the frying pan into the fire, CPI(M) politburo member Buddhadeb Bhattacharjee has said, hoping there would be no repeat of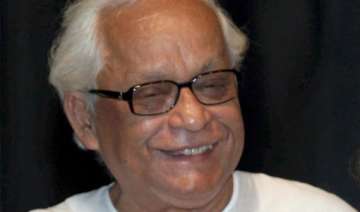 PTI
March 23, 2014 14:24 IST
Kolkata:
Bringing the BJP-led NDA in place of Congress-led UPA would be like jumping from the frying pan into the fire, CPI(M) politburo member Buddhadeb Bhattacharjee has said, hoping there would be no repeat of the 2004 situation when the party had to support Congress.  
"I can tell you that we will try to prevent BJP with all our strength. But that doesn't mean we welcome neo-liberal policies of the Congress which were rejected by the people.  
They should be defeated. They have built two India, one for the rich and one for the poor," Bhattacharjee told PTI here.  
"It is not part of our tactical line that to somehow mobilise some political forces and join the Congress bandwagon after the polls," he said when asked whether CPI(M) would go with Congress after Lok Sabha polls if the situation so demanded.
Asked if his party will support Congress if a situation like 2004 arose, Bhattacharjee said, "Only if a situation like 2004 arises and that there is no other way.