I am very much active as BJP worker: Sanjay Joshi
Ahmedabad:  Former BJP general secretary Sanjay Joshi, who was on a two-day visit to Gujarat, today said that he is still active as a BJP worker."I am a BJP worker and I am very much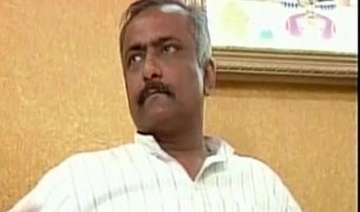 PTI
April 28, 2015 20:30 IST
Ahmedabad:  Former BJP general secretary Sanjay Joshi, who was on a two-day visit to Gujarat, today said that he is still active as a BJP worker.
"I am a BJP worker and I am very much active...," Joshi said when asked about his supporters requesting him to come out from oblivion and join active politics.  
He was here to attend social functions of BJP functionaries in different parts of the state and left for Delhi this evening.
Recently, there was a controversy after posters appeared in Delhi demanding Joshi's rehabilitation in the BJP.  Considered Prime Minister Narendra Modi's political arch-rival, Joshi also lauded the Modi-led central government for responding quickly to help quake-hit Nepal.
"I pay my homage to all those Indians as well as Nepalese who lost their lives in the earthquake. I appreciate the swiftness shown by Indian government in initiating relief and rescue operations in Nepal. I also appeal to citizens to extend whatever help they can give to Nepal," Joshi said.  
After his visit to Palanpur, Kheralu, and Botad towns yesterday, Joshi reached the city to meet BJP workers here.  
During his brief interaction with reporters after arriving here today, Joshi, who keeps a low-profile, indirectly suggested that he is very much politically active.  Joshi and Modi used to work together in the Gujarat unit of the BJP, after which they developed differences.