I-Day : Highlights of PM's speech
New Delhi: Following are the highlights of Prime Minister Dr Manmohan Singh's speech today from the ramparts of Red Fort on India's Independence Day:PM on Pak: India will take all possible steps to prevent repeat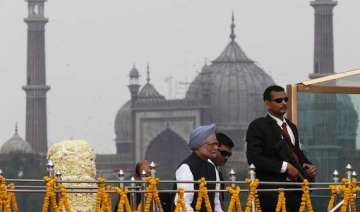 India TV News Desk
August 15, 2013 9:58 IST
New Delhi
: Following are the highlights of Prime Minister Dr Manmohan Singh's speech today from the ramparts of Red Fort on India's Independence Day:
PM on Pak: India will take all possible steps to prevent repeat of incidents like dastardly attack on jawans on LoC with Pakistan: PM. For relations with Pakistan to improve, it is essential that they prevent the use of territory under their control for any anti-India activity.
PM on Modi: In an apparent attack on BJP leader and Gujarat Chief Minister Narendra Modi, Prime Minister Manmohan Singh  warned that "narrow and sectarian ideologies" would "weaken" the democracy and the country and they should be prevented from growing. "There can be no place for narrow and sectarian ideologies in a modern, progressive and secular country. Such ideologies divide our society and weaken our democracy.
PM on Communal Incidents: Singh said despite some worrisome communal incidents in 2012 and this year, "the last 9 years have been good for
communal harmony".
PM on Poverty: In an apparent reference to the controversy over poverty figures, the Prime Minister said measuring poverty is a "difficult task"."There are diverse views about what constitutes poverty.But whatever definition we may adopt, it cannot be denied that the pace of reduction in poverty has increased after 2004.
PM on Food security bill: The Food Security Bill is now before Parliament and we hope it will be passed shortly," he said pointing that the proposed law will benefit 75 per cent of rural population and half of urban population.Under the law, about 81 crore Indians would be entitled to receive rice at Rs 3 per kg, wheat at Rs 2 per kg and coarse grains at Re 1 per kg.
PM on New projects:Government will kick-start a number of new infrastructure projects including, 2 new sea ports, 8 new airports in the coming months to boost sluggish economic growth.
PM on Economy: With economic growth slowing to a decade low of 5 per cent, the Congress-led UPA government has further opened the economy to foreign direct investment and now wants to use investments for returning to high growth tagetory.