'I have nothing more to add': Shashi Tharoor
Kochi: A day after he expressed concern over the way the police was probing the mysterious death of his wife Sunanda Pushkar, Congress leader Shashi Tharoor today said he did not have anything more to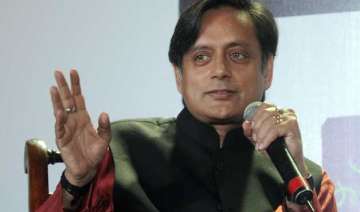 PTI
January 10, 2015 21:25 IST
Kochi: A day after he expressed concern over the way the police was probing the mysterious death of his wife Sunanda Pushkar, Congress leader Shashi Tharoor today said he did not have anything more to add to what he had stated in public about the case at Guruvayur.
Tharoor, who was visiting the Biennale venue at Aspinwall at nearby Fort Kochi, was asked by reporters about the murder case registered by police in connection with the death of Sunanda on January 17 last year.
"It is pointless for you to waste your time on other matters. I said very clearly what I said in Guruvayur yesterday. I have nothing more to add and you are not going to get me to add anything more," Tharoor said.
Taking a dig at the media, he said he was greatly pleased to see the interest of media in art.
As the media persisted, he said, "Please ask the police any questions you want to ask and if you all believe you know a murderer, please go and convey the details to police. I have nothing more to say. Please ask the police," he said.
Tharoor, who had visited the biennale's first edition two years ago, said he had always planned to visit the art extravaganza this time also.
"It is the only biennale of its kind in India and I had always planned to come here. I am really here for that," he added.
Days after the Delhi Police filed a case of murder in his wife's mysterious death, the former Union Minister, who completed a two-week Ayurveda treatment near Guruvayur, told the media in the temple town yesterday that he will extend full cooperation in a "fair" investigation and demanded a professional police probe without any political pressure or consideration and pre-determined outcome.