Don't harass innocent Muslims in name of fighting 'ISIS', Shahi Imam tells Modi
New Delhi: Prominent Muslim leader Syed Ahmed Bukhari met Prime Minister Narendra Modi and asked him that innocent Muslims must not be targeted in the name of fighting ISIS.Shahi Imam during his half hour meeting with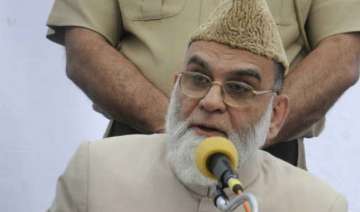 India TV News Desk
February 09, 2016 8:43 IST
New Delhi: Prominent Muslim leader Syed Ahmed Bukhari met Prime Minister Narendra Modi and asked him that innocent Muslims must not be targeted in the name of fighting ISIS.
Shahi Imam during his half hour meeting with PM at Prime Minister's residence said, security agencies of our country should be more transparent while confining terror suspects.
"I urged the prime minister that while detaining people for terrorist activities or suspected links with the Islamic State, special care must be taken to ensure that the lives of innocent Muslim youth and their families are not ruined," Bukhari told IANS.
He said a large number of Muslim youths were languishing in jails on terrorism charges.
Bukhari also took up the issue of the minority character of the Aligarh Muslim University and the Jamia Millia Islamia University.
He told Modi that the government's stand in the Supreme Court on their minority character had created grave concern among Muslims.
"We urged the prime minister that the government should review its stand.
"The prime minister has promised to consider the issues, and said his government won't take any step that may put communal harmony at stake," Bukhari said.
(With inputs from IANS)