In Haryana, BJP bets big on turncoats
Chandigarh: The BJP may have national ambitions to form the next union government, but the party seems to be finding it difficult to get suitable candidates for the Lok Sabha seats in Haryana. The BJP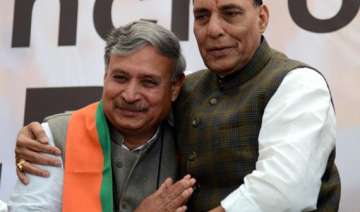 India TV News Desk
March 23, 2014 18:25 IST
Chandigarh:
The BJP may have national ambitions to form the next union government, but the party seems to be finding it difficult to get suitable candidates for the Lok Sabha seats in Haryana. The BJP is largely banking on turncoat leaders and others to establish itself in the state.
The Bharatiya Janata Party (BJP) is contesting eight out of Haryana's 10 Lok Sabha seats and its alliance partner Haryana Janhit Congress (HJC) is contesting the remaining two. Voting takes place April 10.
The BJP has fielded turncoat leaders for at least four seats while it has a newcomer non-politician for another seat. Only on three seats, the BJP has been able to find leaders from within its own ranks.
The party has fielded former union minister Rao Inderjit Singh for the Gurgaon Lok Sabha seat, adjoining the national capital. Singh, a sitting Congress MP from Gurgaon who was at loggerheads with Haryana Chief Minister Bhupinder Singh Hooda for the last three years, finally exited from the Congress earlier this year and joined the BJP.
Singh is a prominent Ahir community leader in the Gurgaon belt and has good influence in the area which is otherwise well known for its real estate goldmine and the land scams that have taken place in recent years. Among others, he faces Aam Aadmi Party (AAP) leader and strategist Yogendra Yadav for the Gurgaon seat.