India has independent evidence on black money in Swiss accounts :Arun Jaitley
Davos: India today said it has independent evidence of Indians having black money in Swiss accounts and Switzerland has promised expeditious sharing of information in this regard.After meeting his Swiss counterpart Eveline Widmer-Schlumpf on the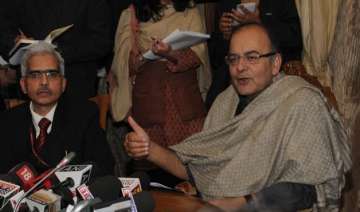 PTI
January 22, 2015 7:57 IST
Davos: India today said it has independent evidence of Indians having black money in Swiss accounts and Switzerland has promised expeditious sharing of information in this regard.
After meeting his Swiss counterpart Eveline Widmer-Schlumpf on the sidelines of the World Economic Forum (WEF) meet, Jaitley said India has independent evidence.  Switzerland has promised it will take expeditious action on the cases.
Jaitley said Switzerland has agreed to share information expeditiously on black money cases where independent evidence is furnished and said that automatic exchange of details would help in curbing the menace of illicit funds.  He said both of them discussed about the parameters based on which Switzerland can provide details on unaccounted money parked in Swiss bank accounts once independent evidence is furnished.
In October last year, both countries had inked a joint statement of understanding with regard to cooperation on tax matters. However, Switzerland has a clear position that information based on stolen data would not be shared with another country but such requests would be looked into in case of independent evidence on the same being made available. 
"Now in continuation with that agreement, I had a detailed meeting with them today as to what could be the parameters of that independent evidence," Jaitley told reporters after his meeting with Swiss counterpart that lasted 40 minutes.
"Of course, our tax officials are working round the clock. They are trying to finish all the assessments and they are trying to collect evidence. Several people in that list have already admitted to the fact that they had accounts.  "Now we do have independent evidence and material available. So, now we have to come back to Switzerland with that material on the basis of which we can get (the information)," the Finance Minister said. 
According to Jaitley, Switzerland has assured that on the basis of such independent information "they will cooperate".  On ways to prevent black money menace in the future, Jaitley said the global community is moving towards automatic exchange of information.
"Switzerland has decided to become an early bird to join that grouping. There were some issues related to India due to the Supreme Court. Now I think that has been resolved and we are also moving in the direction of joining that group.  
"Once both of us join that group, then we are supposed to join in a bilateral agreement with regard to automatic exchange of tax information. Once we do such bilaterals with various countries, I think that would be the long term solution to check this menace," the Minister said.  Earlier the concept was that people will stash money in Swiss banks but nobody will be able to break into that system, Jaitley said.
Switzerland has been evolving its position all these years and therefore they have started cooperating with various states, he added.
In October last year, Revenue Secretary Shaktikanta Das had led a team to Switzerland and both sides signed a joint statement of understanding.
"The Swiss have a clear position that we will not give you any information on the basis of stolen data...
If you come with stolen data, we will not cooperate. Our position now is that in case—that is an alternate position and not a preferred position," Jaitley said.
"We are eager to give you independent evidence, independent of the fact that names of these people figure in a stolen list. Now on the basis of this independent evidence will you give us information that is what we asked Switzerland," he said.
So they agreed on October 15 that they will give it and they will do it expeditiously, Jaitley said.  "These were the subjects that I discussed with them (Swiss delegation). The Swiss Minister also discussed the issue of economic cooperation," he said.