India's first-time voters want strong PM, efficient governance
New Delhi: They may be voting for the first time but they are 100 million strong. India's first-time voters, many of whom are barely out of their teens, know what they want from the general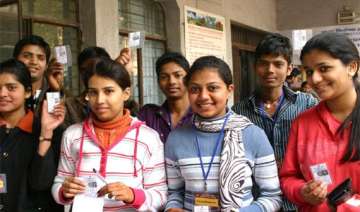 IANS
March 07, 2014 18:41 IST
New Delhi:
They may be voting for the first time but they are 100 million strong. India's first-time voters, many of whom are barely out of their teens, know what they want from the general elections - a strong prime minister and effective governance that can restore the country's growth path.
Many of the voters who would be casting their ballot for the first time in the April-May polls, whose results would be declared May 16, were of the view - based no doubt on what they read in newspapers and watched on TV - that scams have corroded the Indian economy while weak foreign policies have embarrassed it on the global stage.
But most of them have a good idea of the national scene and know exactly what they are talking about.
"Till a decade back we were growing at a rate of around eight percent; now that has dropped to four percent... immediate measures are needed to put the economy back on track and only a strong prime minister can do that," T.R. Rao, an 18-year-old commerce student in Hyderabad, told IANS.
"We need to focus on industries as well as agriculture," he added.