India Story is real, India Shining was imaginary: Congress
New Delhi, Aug 14: The BJP-led NDA government's India Shining advertisement blitz before the 2004 general elections was different from the UPA government's India Story launched Wednesday as the latter is based on real achievements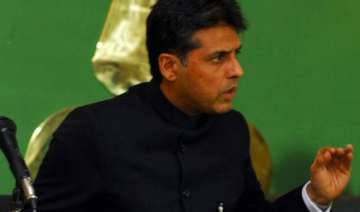 IANS
August 14, 2013 20:06 IST
New Delhi, Aug 14:
The BJP-led NDA government's India Shining advertisement blitz before the 2004 general elections was different from the UPA government's India Story launched Wednesday as the latter is based on real achievements of the government and is not imaginary, Information and Broadcasting Minister Manish Tewari said.
Unveiling the 'Glimpses of India Story - Phase II" at an event here, Tewari said: "There is a lot of difference between India Shining and Bharat Nirman stories. India Shining was a (imaginary) situation that the NDA government was broadcasting, while the Bharat Nirman is a small attempt to tell about the silent revolution that has led to empowerment of millions across the country."
The NDA had lost the 2004 general elections.
Tewari said the India Story was launched by the ministry as part of its job to disseminate information about the government programmes.
The first phase of the programme was launched May 22 this year, as the United Progressive Alliance (UPA) government entered the 10th year of its rule in its second stint.
Asked about the cost of the outreach programme, which is through audio visual clips, print ads, on radio and on social media, the minister said budgetary allocation was made to disseminate information about the government initiatives. In 2013-14, the allocation has been Rs.12.98 crore, he said.
Enumerating the achievements of the UPA government, he said the past nine years had seen "political stability, instability is a term that has almost disappeared", social cohesion "though there have been sporadic incidents here and there", internal security status has been "by and large stable", the country notched 8.2 percent growth in the 11th plan, the country made "significant strides in international relations".
He said the Bharatiya Janata Party (BJP) had failed to see the reality and "seems to be living on some other planet".
The objective of the current phase of the India Story is not only to communicate the benefits of the reforms, but to develop a sense of ownership for these initiatives among the people, said a statement.
The current phase of the India Story has been designed on an integrated model where each media unit of the Ministry would be disseminating information on common themes, i.e., Direct Benefits Transfer, Aadhaar, Food Security, Real Estate regulation, Land Acquisition Bill and Street Vendors Bill. Keeping in mind the varied reach of each medium, the content has been designed specifically to suit the communication needs and the dissemination process.
The multimedia initiative would be put across on traditional, print, outdoor publicity, special outreach programmes focusing on new media platforms with the objective of informing and apprising the public of the new policy initiatives undertaken by the government recently. For the print and visual media, the content is being developed in 11 languages, the statement said.