Indore Corporation Files Police Complaint Over Fake Marriage Certificates About Rahul, Katrina
The Indore Municipal Corporation has filed a police complaint over some fake marriage certificates prepared by some miscreants showing Congress leader Rahul Gandhi having 'married' a girl named Kalawati staying in Ushanagar Extension, Indore and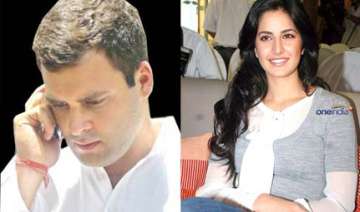 PTI
November 12, 2009 12:42 IST
The Indore Municipal Corporation has filed a police complaint over some fake marriage certificates prepared by some miscreants showing Congress leader Rahul Gandhi having 'married' a girl named Kalawati staying in Ushanagar Extension, Indore and Bollywood star Katrina Kaif having 'married' a local BJP legislator Ramesh Mendola, according to a report in a Hindi newspaper. 
The corporation conducted a departmental inquiry and then lodged a complaint with local police and cyber crime branch. The head of Corporation's Health Committee has decribed these marriage certificates as forged. The certificates do not carry the monograms of the Municipal Corporation nor the official logo.
Katrina's forged marriage certificate carries the date of December 11, 2008, while Rahul Gandhi's forged certificate carries the date of December 2, 2008. The address of Kalawati shown in the certificate is the actual address of the Health Officer of the Municipal Corporation, and it carries the forged signature of the Health Officer.
The Indore Municipal Corporation issues marriage certificates to couples on payment of Rs 35 only, but there are at least 16 benchmarks before a marriage certificate is issued.
The benchmarks include presence of the couple before the official, wedding card, birth certificates, separate and joint photographs of the couple, if a second marriage, then the death certificate of the deceased husband/wife, if divorced then a copy of the court order, presence of parents from both sides, payment receipts of dharamshala or marriage community hall, etc. 
It is only after these conditions are fulfilled that the Registrar of Marriages issues the certificate. Police is now on the trail of persons behind this mischief.