Infighting in Uttarakhand Congress; Vijay Bahuguna threatens to hold rally
Dehradun: In a sign of infighting in the ruling Congress in Uttarakhand, former chief minister Vijay Bahuguna has threatened to hold a rally against his own party's government in protest against non-implementation of decisions take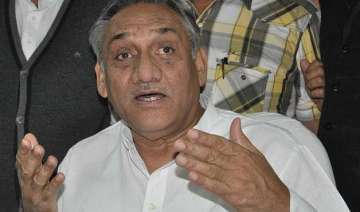 PTI
January 30, 2015 17:18 IST
Dehradun: In a sign of infighting in the ruling Congress in Uttarakhand, former chief minister Vijay Bahuguna has threatened to hold a rally against his own party's government in protest against non-implementation of decisions take during his tenure.
In a letter to his successor Harish Rawat yesterday, Bahuguna raised the issue of regularisation of land under categories IV and 1 (A) in his constituency Sitarganj which has been hanging fire for a year now.  
"A decision on regularisation of land under these categories had been taken during my tenure. It has also been brought to my notice that the set of rules by which the process is to be carried out has also been framed. I am told all it needs now is clearance of the state Cabinet,"  Bahuguna said in the letter.
Bahuguna also asked the Chief Minister to have the proposed amendments to sections of the Zamindari Abolition and Land Regularisation Act cleared by the state Cabinet which will bring relief to leaseholders of Sitarganj.  
Accusing Rawat of not acting on these matters despite several reminders from him in the past, Bahuguna said he will be forced to hold a 'Janakrosh rally' in Udhamsinmgh Nagar district on February 15 if the state Cabinet does not resolve the issues soon. Bahuguna and Harish Rawat are considered arch rivals in the politics of Uttarakhand.
It was after Bahuguna's resignation exactly a year ago that Harish Rawat had taken over the reigns of power on February one last year