Introspect and respect party elders: Congress' advice to BJP
New Delhi: Congress today advised the BJP to introspect and learn to respect elders as it accused Prime Minister Narendra Modi of publicly disrespecting its veterans L K Advani and Murli Manohar Joshi, hours after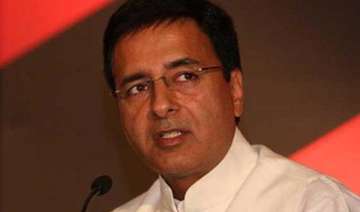 PTI
April 03, 2015 22:59 IST
New Delhi: Congress today advised the BJP to introspect and learn to respect elders as it accused Prime Minister Narendra Modi of publicly disrespecting its veterans L K Advani and Murli Manohar Joshi, hours after Amit Shah's attack on Rahul Gandhi.
With the BJP national executive meeting beginning today, questions over whether party patriarch Advani will deliver an address have put the party on the back foot.
"I would humbly request President of the BJP that he should leave the politics of 'jumlas' and rather introspect themselves.
"They should learn the culture as to how to respect the elders since he has made their senior leaders 'gone' from the scene," party's communication department in-charge Randeep Surjewala told reporters.
He recalled that in 2002, when the then Prime Minister Atal Bihari Vajpayee talked of 'raj dharma' and had decided to make Modi "only a history, the same Advani had come with 'Sanjeevani booti' (herb that infuses life) for Modi" Surjewala alleged that Advani and Joshi are being "disrespected publicly" by Modi.
Setting the tone of the BJP's national executive currently on in Bengaluru, Shah took a jibe at Rahul Gandhi asking the Congress to "find" him and stop finding "non-existent" faults of the government.
At the AICC briefing, when Surjewala was asked about Shah's claim that BJP will rule for 20 years, he replied, "It would be better if the President of the BJP talks of reality and leave the politics of 'jumlas' and tell the nation where has the black money gone, should also tell when the 'acchhe din' will come, tell the country when the farmers' plight and concern will be addressed by the Modi government."
No BJP leader is giving a straight reply to the question whether Advani will address the two-day meet.  Reports had it that "ask any top leader if Advani would speak, and there is no straight answer."
The party has evaded a direct reply to repeated questions after reports that Advani was disinclined to address the gathering.