Ishrat Jahan: Uncle Rauf Lala says, only partial truth has been uncovered
New Delhi, July 6: Slain Mumbai girl Ishrat Jahan's uncle Rauf Lala said today that the CBI chargesheet only uncovered the partial truth. Speaking to reporters here, Rauf Lala said, "It can't be that eight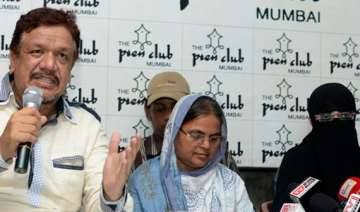 India TV News Desk
July 06, 2013 16:26 IST
New Delhi, July 6:
Slain Mumbai girl Ishrat Jahan's uncle Rauf Lala said today that the CBI chargesheet only uncovered the partial truth.
Speaking to reporters here, Rauf Lala said, "It can't be that eight officials planned a killed a girl. Someone was getting advantage out of it."
Ishrat's uncle said, it is true that we had hoped that the first CBi chargesheet will unmask people the murder of my neice, but only partial truth has been revealed.
"We are waiting for the actual truth. The truth cannot be hidden for long."
Rauf Lala hoped that the CBI probe would be impartial in future too. "We were stopped even from getting her body. We saw the trailer the very day when we went to Gujarat to take possession of her body."
Ishrat's uncle said "When it is clear that it was a fake encounter, and the girl was not guilty, people show now come forward ask for justice. Her mother should be seen as a mother, not as a Muslim or a Hindu."