Isolated Congress trying to energise partymen in TN
Chennai: Isolated politically in Tamil Nadu, Congress is making all out efforts to energise its cadres ahead of the April 24 electoral fight for 39 Lok Sabha seats in the state.An air of despair has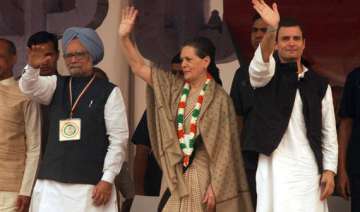 India TV News Desk
March 22, 2014 11:07 IST
Chennai
: Isolated politically in Tamil Nadu, Congress is making all out efforts to energise its cadres ahead of the April 24 electoral fight for 39 Lok Sabha seats in the state.
An air of despair has been pervading the Congress house with top guns like Union Finance Minister P Chidambaram, Union Shipping Minister G K Vasan and others opting out of the contest in an atmosphere that presents bleak poll prospects in the wake of DMK refusing to revive poll truck with the party.  
Against the backdrop of Rahul Gandhi's call for encouraging youngsters, Chidambaram has pulled out of the contest from his traditional fort Sivaganga, where he managed to get a ticket for his 42-year-old son Karti.  
Even as three weeks have elapsed after the Election Commission announced the poll schedule for the LS polls, the lacklustre scene sweeping the Congress is yet to pave way for activities.
Congress leaders and its workers fear the party might witness a repeat of the 1996 rout when it fought the election alone and drew a blank.
The announcement of candidates for 30 seats, which has names like Manishankar Aiyar, Kumaramangalam and Karti Chidambaram seemed to have failed to enthuse the morale of Congress cadres.
However, seeking to galvanise the party for the electoral battle, state unit President Gnandesikan said star campaigners of Congress, its chief Sonia Gandhi, Prime Minister Manmohan Singh and Rahul Gandhi would undertake electioneering in the state.
The AIADMK, DMK, BJP and its allies, including DMDK are in the thick of the election campaign, while Congress is hardly engaged in electioneering, barring meetings addressed by P Chidambaram in Sivaganga and E V K S Elangovan in Erode.
AICC member and TNCC General Secretary K Chiranjeevi blamed "inactive local leaders" for the lack of enthusiasm of party workers. "Some leaders are concentrating only in their constituencies. They are not talking about the achievements of the UPA government."
However, K Jayakumar, AICC secretary and senior TN Congress leader who is contesting from Tenkasi (Reserved) seat differs. He says the "extraordinary work" for the welfare of the people would energise him and all party workers.
"Tell me which regime has done so much for the people like UPA I and II? Be it empowering people by conferring rights on them in employment and education and more importantly the Food Security Act," Jayakumar, who has twice been a member of the Assembly, says.
Another TNCC functionary requesting anonymity said that several senior leaders were still engaged in backroom parleys to ensure seats for their supporters.
"For instance, Youth Congress wants Tiruvallur and Mahila Congress, Karur.
At the same time, senior leaders want these seats for their supporters. How then will they think about campaigning,? he asked.
The Congress is yet to announce candidates for nine more Parliamentary seats in Tamil Nadu. In 2009, Congress won nine seats in alliance with DMK though the party contested 16 seats.