Jammu & Kashmir headed for governor's rule
New Delhi/Srinagar: Jammu & Kashmir on Thursday appeared hurtling towards a spell of governor's rule with incumbent N N Vohra sending a report to the Centre on the political impasse after Omar Abdullah asked him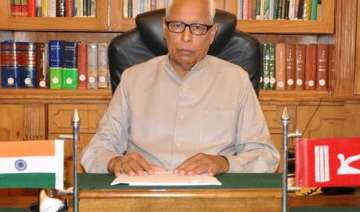 PTI
January 08, 2015 23:28 IST
New Delhi/Srinagar: Jammu & Kashmir on Thursday appeared hurtling towards a spell of governor's rule with incumbent N N Vohra sending a report to the Centre on the political impasse after Omar Abdullah asked him to relieve him as caretaker chief minister.
The report to the President is understood to be containing two or three suggestions including the option of a spell of governor's rule in the wake of no party being in a position to cobble up numbers required to form a government after the highly-fractured verdict in the assembly elections, sources said.
The governor's report comes a day after Omar met him in Delhi last night soon after his return from London after a 12-day visit to his ailing parents and asked him to relieve him as caretaker chief minister.
Omar told him that the state needed a full-time administrator to deal with the situation along the border with Pakistan and providing relief to flood-affected people in the Kashmir valley.
"Just to confirm I did meet governor Vohra sahib last night and ask him to relieve me as caretaker CM. I had agreed to stay temporarily," Omar tweeted on Thursday.
He was asked to continue as caretaker chief minister on December 24 after his resignation in the wake of defeat of his party, National Conference (NC), in the assembly poll on December 23.