'Janata Parivar' parties will not merge: Ram Vilas Paswan
Bhopal: Union Minister Ram Vilas Paswan today said that there was no possibility of the 'Janata Parivar' parties forming a merger.  "They (Janata parties) will never come under one roof.There is no possibility of it...Woh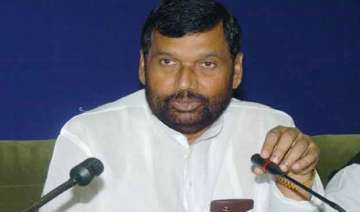 PTI
January 20, 2015 23:37 IST
Bhopal: Union Minister Ram Vilas Paswan today said that there was no possibility of the 'Janata Parivar' parties forming a merger.  "They (Janata parties) will never come under one roof.There is no possibility of it...Woh mar bhi jayenge, aur jhar bhi jayenge. (They will die and disintegrate)," the Minister for Food, Consumer Affairs and Civil Supplies told reporters here when asked whether the merger was possible.
"The total strength of Janata Parivar is confined to just 13 seats and differences have cropped up among them on the issue of President's post," he said.
They had stated that the merger will be officially announced after the Makar Sankranti festival, though it has not happened so far, he added.
The Lok Janshakti Party (LJP) chief was speaking on his arrival here to attend the marriage ceremony of Madhya Pradesh Home Minister Babulal Gaur's grandson.
In a bid to counter the ruling BJP, six constituents of the erstwhile 'Janata Party' decided to merge on December 4 last year at a meeting in New Delhi and had authorised SP chief Mulayam Singh Yadav to work out the "modalities" in that direction.
Referring to the problems being faced by Bihar Chief Minister Jitan Ram Manjhi in running the government, Paswan said, "Those trying to pressure him, will go down. We want Manjhi to remain free from all kind of pressures. We are with him on the issue."
Paswan said that former Bihar Chief Minister and JD(U) leader Nitish Kumar had thought that Manjhi will remain under his control. "But that has not happened...and now a watch is kept on whom he meets and what he eats."
"It is a fact that Manjhi has become a major problem for them, as they are neither in a position to throw him out nor able to digest him...In such a situation, the Manjhi government should resign and fresh polls should be held in the state," the Union Minister said.
Replying to a query, he said he is not the Chief Minister's race in Bihar.
Paswan also praised Prime Minister Narendra Modi for his leadership and recalled the huge response that the country had received during his visits to countries like the US, Australia and Japan, among other nations.