Japanese Foreign Minister calls on PM Modi
New Delhi: Japanese Foreign Minister Fumio Kishida on Friday called on Prime Minister Narendra Modi who reiterated that India-Japan relationship is close to his heart and he attaches the highest importance to it.Modi also referred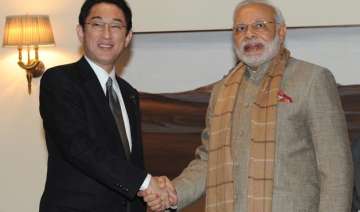 IANS
January 17, 2015 7:32 IST
New Delhi: Japanese Foreign Minister Fumio Kishida on Friday called on Prime Minister Narendra Modi who reiterated that India-Japan relationship is close to his heart and he attaches the highest importance to it.
Modi also referred to his close personal friendship with Japanese Prime Minister Shinzo Abe.
Modi conveyed his congratulations to Abe on his recent victory in the general elections in Japan. Modi also recalled his successful visit to Japan in September 2014 and his meeting with Abe on the sidelines of G-20 Summit in Brisbane in November 2014, and said that he looked forward to strengthening the bilateral relationship in the years to come.
Highlighting the growing business opportunities in India, and referring to the increasing number of Japanese business operating in India, Modi expressed his strong support for closer economic ties with Japan.
He referred to the successful operationalization of "Japan Plus" mechanism to facilitate Japanese businesses in India as a symbol of the importance India attaches to relations with Japan.
He also welcomed the progress in key areas of bilateral cooperation since his visit to Japan, said an official statement. Kishida is here from Jan 16-18.