Jayalalithaa mocks at DMK on symbol issue
Chidambaram (TN): Tamil Nadu Chief Minister J Jayalalithaa today rebuked arch rival DMK's attempts to target "two leaves" and claimed her party's symbol had been instilling fear among the Karunanidhi outfit.  In her remark laced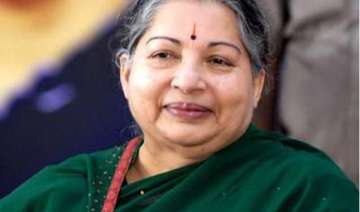 India TV News Desk
March 12, 2014 11:45 IST
Chidambaram (TN):
Tamil Nadu Chief Minister J Jayalalithaa today rebuked arch rival DMK's attempts to target "two leaves" and claimed her party's symbol had been instilling fear among the Karunanidhi outfit. 
In her remark laced with sarcasm at an election rally here, the AIADMK supremo came down heavily on DMK petitioning Election Commission and the state High Court seeking to "mask" any sign or object that resembles "two leaves" in the run up to the April 24 Lok Sabha polls.
"Any thing viewed by jaundiced eyes looked yellowish and for DMK, which is struck by fear, whatever they see, it resembles two leaves," she quipped evoking thundering applause by the crowd.