Jayalalithaa's food bill poser for Karunanidhi
Chennai, Aug 11: Tamil Nadu Chief Minister J. Jayalalithaa Saturday asked DMK chief M. Karunanidhi whether his party would vote against an unchanged Food Security Bill if moved in parliament.In a statement issued here, Jayalalithaa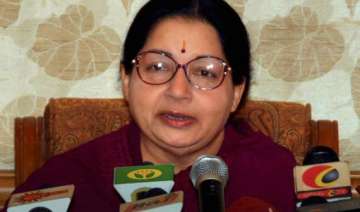 IANS
August 11, 2013 9:42 IST
Chennai, Aug 11
: Tamil Nadu Chief Minister J. Jayalalithaa Saturday asked DMK chief M. Karunanidhi whether his party would vote against an unchanged Food Security Bill if moved in parliament.
In a statement issued here, Jayalalithaa challenged Karunanidhi to answer her question before the bill was taken up for discussion in parliament.
She wanted to know whether the DMK would move amendments to the bill.
The chief minister also asked if Karunanidhi was aware that as per the bill provisions, there would be a reduction of 100,000 tonnes of rice per month to Tamil Nadu and the rice supply from the central government to the state at Rs.3/kg was limited to three years.
Jayalalithaa also asked the DMK chief to answer whether Tamil Nadu would incur an additional sum of Rs.3,000 crore to implement the universal public distribution system in the state apart from the current spend of Rs.5,000 crore.
In a statement, Karunanidhi Friday said the party would support the bill only if it did not affect the existing rights of the state even a bit.
He said Jayalalithaa did not oppose the bill as she had done in the case of foreign direct investment in retail but wanted some amendments in the Food Security Bill.
He said the central government should allow implementation of the food security law as the states desired.
Citing Jayalalithaa's letter to Prime Minister Manmohan Singh Aug 2, Karunanidhi said she had suggested some amendments to the bill and not rejected it outright.
He said under the Food Security Bill, the central government would supply rice for below poverty line people at Rs.3 per kg as against the current price of Rs.5.65 per kg.