Jayanthi Natarajan's attack on Rahul: Congress slams her
New Delhi: Stung by Jayanthi Natarajan's attack on Rahul Gandhi, Congress leaders today rallied behind him and slammed their outgoing "opportunist" colleague, saying she had been removed as Environment Minister because of 'Jayanthi tax' barb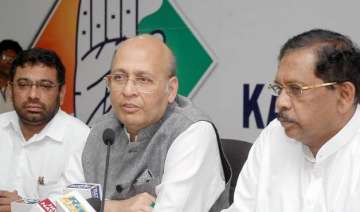 PTI
January 30, 2015 21:21 IST
New Delhi: Stung by Jayanthi Natarajan's attack on Rahul Gandhi, Congress leaders today rallied behind him and slammed their outgoing "opportunist" colleague, saying she had been removed as Environment Minister because of 'Jayanthi tax' barb by BJP in the run up to Lok Sabha polls.  
Her predecessor Jairam Ramesh as well as her successor M Veerappa Moily said Natarajan was levelling baseless allegations that Rahul Gandhi used to interfere in the functioning of the Environment Ministry.  Congress alleged that she was playing into the hands of the "present political masters" and corporates aligned with them to create "artificial masala" ahead of the Delhi Assembly polls.
Congress spokesman Abhishek Singhvi accused Natarajan of being "opportunistic and hypocritical" for alleging that Rahul used to direct her on green nod when she was Environment Minister before being forced to resign in December 2013.
Addressing a press conference here, he said, "Release of the letter and the timing for the press conference (by Natarjan earlier in the day) has been decided by the same masters to create artificial masala for Delhi elections."
Ramesh said her allegations against Gandhi were "not just completely unfair but also preposterously baseless."In a statement here, he said, "As Natarajan's immediate predecessor for slightly over 25 months, I can say with all honesty that at no point of time did Rahul Gandhi ever tell me, directly or indirectly, what to do or what not to do in the discharge of my ministerial responsibilities." Rubbishing the allegations, M Veerappa Moily, who succeeded Natarajan in the Ministry, said Rahul Gandhi had never interfered in the functioning of the ministry.  
He said in Bengaluru that neither Rahul nor Sonia Gandhi had any clamour for power and that is why they remained out of government."Soniaji could have become the Prime Minister thrice...  Rahul ji also could become the Prime Minister anytime," he said, adding both, however, chose to remain away from government.
Congress spokesman P C Chacko said Natarajan has made the "wild allegation" against the party Vice President with an "ulterior motive."Seeking to puncture Natarajan's charges, he wondered why she did not raise the issue in the party fora for the past one year in spite of several opportunities.
"Not making use of any of the opportunities, if they make this wild allegation, the reason is obvious. It is some ulterior motive. Let them do that......Congress never stops anyone from resigning. So Jayanthi can also go Krishna Tirath way."
Singhvi said, "Unfortunately, I think the press conference and the letter is nothing more and nothing less but an 'image bachao abhiyan'. The whole world knows that the 'Jayanti tax' term was coined by the present political masters.
Pretending ignorance is of no use." Referring to her exit from the UPA government, he said, "Jayanthi Natarajan appears to be in a minority as far as knowing the reasons for her removal as Environment Minister." He said while there was "no legally charegable" evidence against her but her removal had become a "political requirement" at that time.
"There is a difference between provable charge and serious allegations' which could be looked into later, he said.
In an obvious dig at BJP, he said the reason "should be clear to her and to all those present political masters ...at whose instance she wrote the letter and held a press conference..."
He said they are those who, more than one year ago, coined the word "Jayanthi tax. So neither she nor anyone else can be in doubt.... Under pressure exerted by same persons who coined the Jayanthi tax ....and corporates. such pressure tactic (to attack Rahul Gandhi) is obvious."