JD-S, BJP dilemma over anti-Congress front in Karnataka
Bangalore: The poor show of the JD-S and the BJP in the May 5 Karnataka assembly polls seems to be pushing them to jointly take on the state's ruling Congress in the 2014 Lok Sabha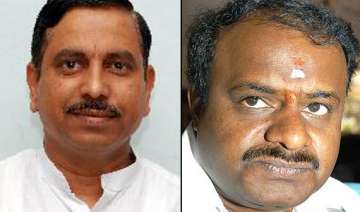 India TV News Desk
August 24, 2013 12:56 IST
Bangalore:
The poor show of the JD-S and the BJP in the May 5 Karnataka assembly polls seems to be pushing them to jointly take on the state's ruling Congress in the 2014 Lok Sabha elections. In the process, they are engaged in a balancing act over the nature of the anti-Congress arrangement.
Both the Janata Dal-Secular and the Bharatiya Janata Party are driven by the intense desire to defeat the Congress in the Lok Sabha elections due next April-May as the party humbled them in the assembly polls.
Belying several pre-poll projections that it might fall short of a majority in the 225-member assembly that includes one nominated member, the Congress romped home with 122 seats.
The JD-S and the BJP managed just 40 seats each with the remaining taken by smaller parties and independents.
The outcome was a shocker for the two parties, but more so for the JD-S as it expected a split verdict and to be a king-maker.
The BJP anticipated it would lose power after one term in office in view of corruption scandals that rocked the tenure of its first chief minister B.S. Yeddyurappa. However, it too did not expect to suffer this bad as it lost 70 of the 110 seats it had won in 2008.
The two parties, however, see a bright future for them in the state in the Lok Sabha elections - provided the anti-Congress votes are not split.
Karnataka sends 28 members to the Lok Sabha. In the 2009 elections, the BJP was the biggest winner with 19 seats. The Congress got just six and the JD-S only three.