JD(U) announces first list of candidates
New Delhi: JD(U) today announced its first list of 15 candidates for Bihar and four other states fielding a former bureaucrat K P Ramaiah from Sasaram against Lok Sabha Speaker Meira Kumar.Sasaram is a reserved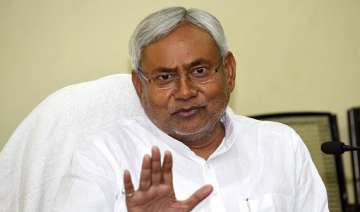 PTI
March 15, 2014 16:46 IST
New Delhi:
JD(U) today announced its first list of 15 candidates for Bihar and four other states fielding a former bureaucrat K P Ramaiah from Sasaram against Lok Sabha Speaker Meira Kumar.
Sasaram is a reserved seat from where BJP has fielded Sanjay Paswan. With Ramaih, a former IAS officer having served in the state in various capacities joining the fray, the contest in Sasaram has become triangular.
Bihar Speaker Udai Narayan Chowdhary has been fielded from the reserved seat of Jamui, where LJP chief Ram Vilas Paswan's son Chirag Paswan is contesting. Sudhanshu Shekhar Bhaskar is the RJD candidate here.
While LJP has alliance with BJP, RJD is in alliance with Congress in Bihar.
The party fielded its Jharkhand unit chief Jaleshwar Mahato from Giridih and Mahesh Yadav from Chatra in Jharkhand.
It also declared candidates for four seats in Narendra Modi-ruled Gujarat and one each in Madhya Pradesh and Rajasthan.