JD (U) squabble fuels speculation, Manjhi strikes defiant note
Patna/Banka/Gaya: Squabbling in JD(U) intensified today, a day after the 'dinner diplomacy' by pro-Nitish Kumar ministers which fuelled speculation of attempts being made to replace Jitan Ram Manjhi by another Dalit in the Chief Minister's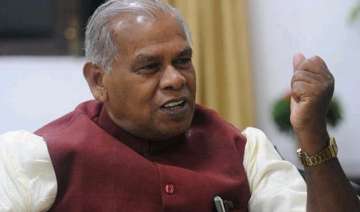 PTI
January 22, 2015 19:36 IST
Patna/Banka/Gaya: Squabbling in JD(U) intensified today, a day after the 'dinner diplomacy' by pro-Nitish Kumar ministers which fuelled speculation of attempts being made to replace Jitan Ram Manjhi by another Dalit in the Chief Minister's post.
However, Manjhi struck a defiant posture claiming to be performing better than his mentor.
Eighteen ministers owing allegiance to Nitish Kumar had attended a dinner meeting at residence of Food minister Shyam Rajak to signal a warning to Manjhi.
Addressing a function at Banka, Manjhi in an apparent reference to previous governments' tenure, including the Nitish regime, said earlier the state government could not spend more than 30 to 45 per cent of budgetary allocation.
"But, a poor man CM Manjhi managed to spend 58 per cent of budget on welfare works," Manjhi commented.
He said his efforts to stop "loot of government fund" has resulted in "pain in stomach" of people who were working overtime to oust him.
While Manjhi was speaking, senior minister Narendra Singh, having emerged as CM's close advisor, was on dais along with Shyam Rajak, who hosted dinner for pro-Nitish ministers.
Narendra Singh spoke in support of Manjhi and asked masses to work for him to continue as CM for well being of poor.
But, hours later Manjhi took a u-turn at Gaya.
On return to Gaya after laying foundation of a ropeway at Mandar hills at Banka, Manjhi appealed to people to get ready to fight Assembly elections under leadership of Nitish Kumar.