Jitan Ram Manjhi extends a hand of friendship to PM Modi
Jehanabad/New Delhi: Bihar Chief Minister Jitam Ram Manjhi said that he has extended a hand of friendship to Prime Minister Narendra Modi. He said that he feels that the two leaders work for the welfare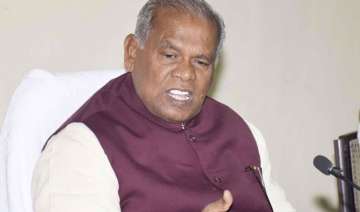 India TV News Desk
January 11, 2015 11:27 IST
Jehanabad/New Delhi: Bihar Chief Minister Jitam Ram Manjhi said that he has extended a hand of friendship to Prime Minister Narendra Modi. He said that he feels that the two leaders work for the welfare of poor people and that their objective is also same.
Manhji, who has often got into trouble for making controversial statements said, "I have extended a hand of friendship to Narendra Modi. He talks about development and welfare of poor people... Jitan Ram Majhi is poorest among poor."
While addressing a meeting in Jehanabad, he added on a rather emotional note, "If Jitan Ram Manjhi fails in Bihar, there won't be any personal loss to Jitan Manjhi... but this failure will be a huge set back to poor people of the state. People will abuse them (poor). People will say poor are failure."
When Manjhi was asked about reports suggesting that Nitish may be contemplating removing his successor from the top job in the state, the Chief Minister opted to remain silent.
Meanwhile, Janta Dal (United) chief, Sharad Yadav, who yesterday attended the Janata Parivar meeting in New Delhi, choose to clear the air over the issue saying, "There is no question of replacing Manjhi. This was not in agenda."
RJD chief Lalu Prasad Yadav also ruled out possibilities of Manjhi's removal. He said that the Janata Parivar were 'busy with merger plans and discussions on the modalities of joint protests against the BJP government'.
"Our meeting was to discuss the Janata Parivar merger issue. There is no talk about removing or not removing Jitan Ram Manjhi. Those who are unable to digest the coming together of JD(U) and RJD are speaking about this," he said.
On the other hand, Bihar Education Minister, Brishen Patel, said that any attempt to replace Manjhi will harm the party on several fronts as he has become a factor now.
"Any move to replace him will be suicidal... Manjhi has become a factor now," the Minister said.