J&K: BJP core group to discuss common minimum agenda for alliance with PDP
New Delhi: The core group of Bharatiya Janata Party (BJP)'s Jammu and Kashmir unit is slated to meet today to discuss the common minimum programme before the alliance with PDP for forming a new govt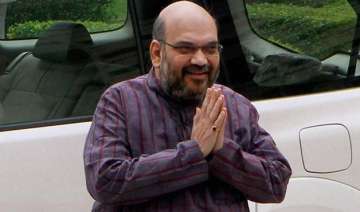 India TV News Desk
January 05, 2015 11:43 IST
New Delhi: The core group of Bharatiya Janata Party (BJP)'s Jammu and Kashmir unit is slated to meet today to discuss the common minimum programme before the alliance with PDP for forming a new govt could be finalised.
The meeting, which will be chaired by party chief Amit Shah, will also take cognizance of the five demands that the PDP  wants the saffron party to concede. The five demands are -- respect for the Self-Rule proposal including softening of borders, revocation of Armed Forces Special Powers Act (AFSPA) from peaceful areas, strengthening of Article 370, full tenure for Mufti Muhammad Sayeed as CM and comprehensive package and relief for flood hit people of Kashmir including traders.
The meeting will take place at party's headquarters at Ashok Road in New Delhi. It will be attended by Union Minister Jitendra Singh, party general secretary Ram Madhav, party's state unit president Jugal Kishore Sharma and other top leaders from the state.
Kavinder Gupta, newly elected MLA from Gandhi Nagar and former Jammu Mayor, hinted that there will be some breakthrough very soon as the leaders from the state will be sharing inputs with the leadership in New Delhi at today's brainstorming session.
Sources said that the BJP has already begun consultations with the PDP at various levels but the core group will take the final decision.
Last week, PDP chief Mehbooba Mufti had claimed to have support of over 55 MLAs in the 87-member Jammu and Kashmir Assembly, giving a clear indication that talks between the two party is on.
There were also reports that the two parties have decided to come together with the latter agreeing on the name of Mufti Mohammad Sayeed for the CM post.  These reports had also revealed that the post of Deputy CM could go to the BJP with Nirmal Singh leading the race for the job.
Jammu and Kashmir witnessed a fractured mandate in the recently concluded assembly polls. The PDP with 28 seats, emerged as the single largest party followed by the BJP which managed to bag 25 seats. The National Conference and Congress won 15 and 12 seats, respectively.
The magic figure needed to form the government here is 44.
An elected government has to be in place by 19 January, failing which Governor's rule will be imposed in the state.