J&K: Stalemate continues on govt formation in the state
Srinagar: Two weeks after the Assembly polls threw up a fractured verdict, Jammu and Kashmir continued to see a stalemate over government formation with PDP today saying there is no progress in talks with BJP.Hopes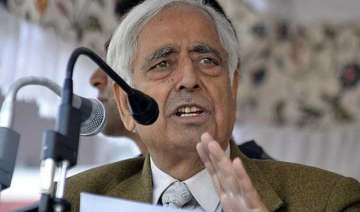 PTI
January 06, 2015 19:30 IST
Srinagar: Two weeks after the Assembly polls threw up a fractured verdict, Jammu and Kashmir continued to see a stalemate over government formation with PDP today saying there is no progress in talks with BJP.
Hopes are now being pinned on PDP patron Mufti Sayeed's visit to Jammu towards the weekend when he may possibly meet BJP leaders to take the process forward.
"We are still in status quo," said PDP's chief spokesman Naeem Akhtar while underlining that there has been no progress as far as government formation talks with the BJP is concerned.
BJP, whose top brass held consultations with its party leaders from the state yesterday in Delhi, had said that PDP has shown some "initiative" in joining hands with it and hinted that certain controversial issues could be set aside.
Meanwhile, sources in PDP said Sayeed is likely to travel to Jammu at the end of this week to "take the talks for government formation to the next level but nothing has been finalized so far."
They said Sayeed has been staying in the valley all this while due to some personal pre-occupation.
In the election results declared on December 23 last, PDP emerged as the single largest party winning 28 seats -- 25 in
Kashmir and three in Jammu region. The BJP came a close second, bagging 25 seats—all in Jammu. The state Assembly has 87 seats.
It appears to be pulling out all stops to form its first government in the only Muslim-majority state of the country.
National Conference bagged 15 seats while Congress won 12 seats with smaller parties and independents winning on seven seats.