J&K to evolve a policy on contractual recruitments: Mufti
Jammu: Jammu and Kashmir government will evolve a policy for the contractual recruitments in the state, Chief Minister Mufti Mohammad Sayeed today said.He told the Legislative Assembly while replying to another supplementary about filling up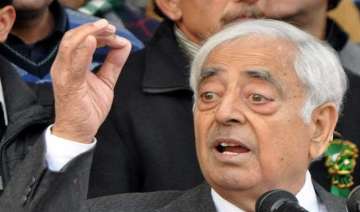 PTI
April 08, 2015 19:31 IST
Jammu: Jammu and Kashmir government will evolve a policy for the contractual recruitments in the state, Chief Minister Mufti Mohammad Sayeed today said.
He told the Legislative Assembly while replying to another supplementary about filling up of vacancies by the J&K State Public Service Commission (J&K PSC).
"We will evolve a policy (on contractual recruitments). We have take a decision. Those who will be appointed under contractual policy, will not removed in future. We will find modus operandi, (as to) how we will do it transparently", he said.
"Those who will appointed, will continue to serve under a policy and will not be removed. Once he is appointed, he is appointed for all the times", he said.  "So, we are evolving a policy and the vacancies of teachers, lecturers, doctors will be filled up under fast track", he said.
The chief minister said the Commission will be at full strength shortly and all vacancies referred to it will be filled in a time-bound manner.
"We will also frame a policy to fill up all the posts in a fair and transparent manner," he said, adding, modus operandi will be evolved to provide jobs to aspirants in the government sector on a regular basis.