Yasin Malik detained as JKLF men clash with security forces
Srinagar: JKLF chairman Mohammad Yasin Malik and about a dozen others were today detained while they were trying to stage a sit-in at Lal Chowk here against the move for settlement of West Pakistani refugees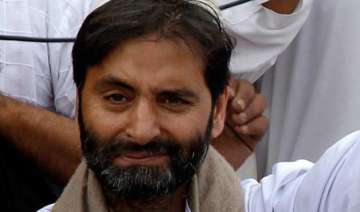 PTI
January 16, 2015 17:59 IST
Srinagar: JKLF chairman Mohammad Yasin Malik and about a dozen others were today detained while they were trying to stage a sit-in at Lal Chowk here against the move for settlement of West Pakistani refugees in Jammu & Kashmir, triggering clashes between his supporters and law enforcement agencies.
Jammu Kashmir Liberation Front (JKLF) chairman Malik, along with his colleagues and supporters, tried to stage a sit-in at Lal Chowk, the nerve centre of the city, shortly after Friday prayers but were stopped by the police at Budshah Chowk, officials said.
They said the JKLF chairman and nearly a dozen of his colleagues were taken into preventive custody after they refused to disperse on their own.
However, some of his party supporters turned violent and resorted to stone-pelting on police and paramilitary personnel deployed in the area, leading to clashes.  The officials said police fired teargas shells and used batons to chase away the protesters. Clashes were, however, continuing in nearby Maisuma, the headquarters of JKLF, they said, adding four persons including two policemen were injured in the clashes so far.
Traffic on the main road through Lal Chowk was diverted following the protest and subsequent clashes, which resulted in massive snarl in nearby areas.
A parliamentary panel has recently recommended Permanent Resident Certificate and right to vote in Assembly elections for the West Pakistani refugees and displaced persons from the Pakistan-occupied Kashmir, besides financial assistance of Rs 30 lakh per family. The panel also recommended "de-freezing" of eight seats for the displaced persons and reservation for both groups in the Assembly.
The issue has snowballed into a major controversy with separatist groups including both factions of Hurriyat Conference terming it as a move to change the demography of the state. Mainstream parties including National Conference and Peoples Democratic Party have also voiced their concerns.  
Meanwhile, several groups of people including students staged protests at various places after Friday prayers against French satirical magazine 'Charlie Hebdo' for carrying blasphemous caricatures in its first edition after the deadly attack on its office in Paris. The protests were peaceful, the officials said.